A few years ago, we lived in a small town in Idaho. It was really a beautiful little place tucked away in the Sawtooth Mountains. Our little town was complete with whimsical old houses converted into little shops along Main street, quaint bistros and cafes with homegrown/organic menus, 1 post office, and 1 traffic light! It was the kind of place where people left their front doors unlocked, their cars running while stepping into a store, and no one had a car alarm...except us because we were from California and trusted no one. Everyone hit the slopes during the winter, and everyone hiked the trails during the summer. Hollywood's elite and world leaders would fly into our tiny airport and vacation or "holiday" amongst us commoners. More importantly though, my kids learned how to ski, catch fish, pick flowers, go bug hunting with friends, and discover wildlife. Our little valley was privileged with deep blue skies and gorgeous sunsets. The heavens declare His glory indeed.

See what I mean! (via Hailey Chamber)

Unlike the surroundings of our famous valley, we lived very humbly as my husband was a pastor at a small church in town. Here, we met life long friends, and we hold fond memories of our time in the Wood River Valley.
It was also here that our little family lived on a tight budget. Because of it's popularity, the cost of living in our little town held an expensive price tag. I had to come up with ways to stretch every dollar and make every penny SCREAM!




I learned one way of keeping more green in the bank was to organize my shopping and make a menu. In Idaho, I made a monthly menu since our income came once a month. I would sit with a printed monthly calendar, open up my cookbooks in front of me, and proceed to make a menu and grocery list. It would take about 2 hours. 2 hours for a months menu- not to shabby I say. By the way, I didn't use a cookbook for every meal entree, but in those early days, cookbooks were my friends.
I feel you, girl!
So with my monthly menu and list in hand, I'd pack my 3 little ones in the car, drive down to the nearest big city- just one quick hour away, and spend the day shopping. We had grocery stores in town where I picked up milk and fresh fruits and veggies through out the month, but Costco, Target, Home Depot and all affordable clothing stores were in the big city. It was worth the drive and the gas money. It was also worth having the kids strapped into their car seats for an hour and eventually napping, giving mom a little sanity back. I'm not the only one thinking it, right? Ok, don't answer. Part of my evil plan included bribing my children with ice cream after the all the shopping was done. It went something like this, "If you guys behave, we can get ice cream afterwards!" And the rest of the trip was spent reminding them with every little hint of going on strike from good behavior, "Do you want ice cream?" ...."Do you want ice cream?"
Shopping with one child is easy. It's when
you have to take the pack & keep them from
turning on you.
I know what it's like to stick to a tight budget; even the cost of their ice cream cones was put into my grocery budget. If there's one area you have the most control of in your spending, it's food. So here are a few things I've learned over the years that help me stick to our plan and our budget. Our income has grown since the days in Idaho, but I still follow a grocery budget. It's a bit of a game I play with myself now. Yes, sadly, it has come to this. Playing games by myself. If I save money from my shopping, then I have a little extra to spend on...oh, I don't know...my DIY projects!
If you're new to organizing your shopping and planning a menu, know that it will take a little bit of time to get use to, but it is absolutely worth it. I will go into more detail in part 2 of this post, but here are some steps to follow and get you started.
1. Know Your Budget. You can't "wing it" when you go to the grocery store and expect to save money. Never, ever, ever, did I mention ever, does this happen. If I'm spending $200 on groceries each week but I should only be spending $150, my finances are going to take a hit.

2. Know Your Prices.

Do
you know how much a pound of 90% ground beef should cost? How about a pound of chicken breast, a dozen eggs, or a loaf of your favorite bread?
The lowest prices come around once a month at stores, and that's when you buy, buy, buy!



3.

Gather

your grocery inserts and compare sale prices. You may be loyal to a store because it's close to your house, but what if the store just a block further has better prices overall. Competition is the name of the game.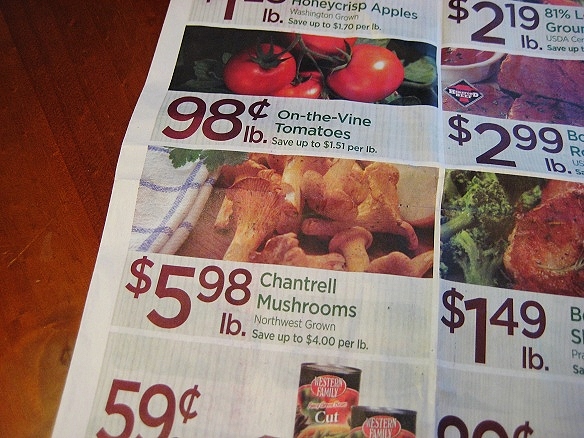 4.

Gather your cook books and make a menu for a week, 2 weeks, or a month based on your budget and income.

Here it is. The KEY to it all. Even if I never did any of the other step, this step alone would save me tons (ok, maybe hundreds). Here's my menu for a week. I don't usually make a fancy chart like this, (this is special for you guys) but I do always write out a menu for my family.




5. From your Menu, make a list of the items needed. Lewisville always needs staple items like milk, bread, eggs, cereal, etc. Those get put on the list first, then I run through each day of the menu and add to my grocery list.




6.

Gather your coupons and match them up with the sales prices. This is a big one, but if you've never couponed before and/or don't know how to, let me just say it is nothing, NOTHING like that show Extreme Couponing. For a quick tutorial visit the Coupon Mom here. You'll need to sign up, but it's free.




Finally, when you're ready to shop remember these simple rules.
1. Stick to your list
2. Feed yourself and the kids before you go, or take snacks for them if it's going to be a long day.
3. Use cash. It's that green paper we used to put in our wallets.
4. Don't stress if you're using coupons. Couponing is a skill sharpened over time.

Part 2 of this post will go into more details with each step. If you're on a tight budget, hang in there. This blog is all about living beautifully while living frugally.

Have a great weekend All!
Blessings to you,
Lisa

Linking up to:
Thrifty Decor Chick